If you're sick of dealing with complex content and data disasters, it might be time to invest in a product information management (PIM) system like Pimcore. If you want to know more about Pimcore - how does it work and why you should use it, then read on!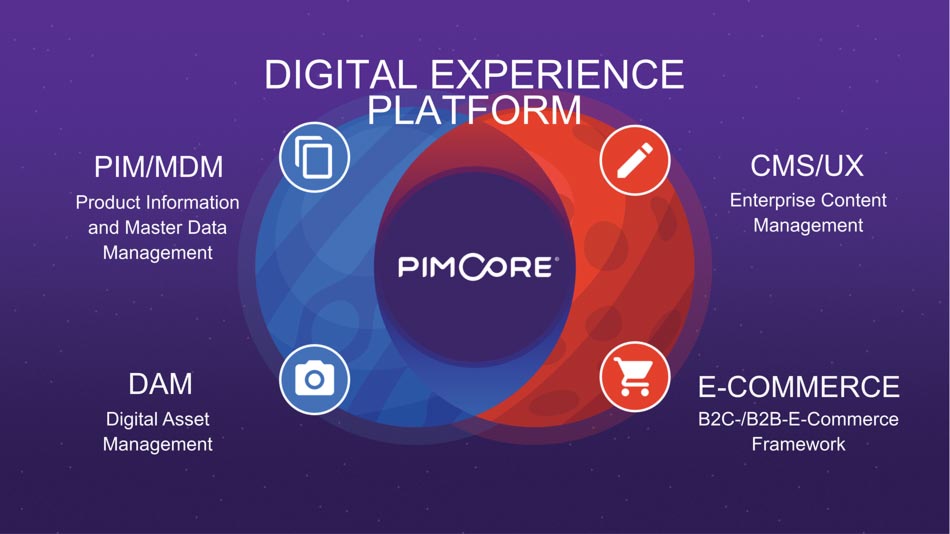 So what is Pimcore?
Pimcore is a software product that integrates your existing content management system / digital experience platform, your product information / master data management, your digital asset management and your B2B / e-commerce portal. If you deal with a lot of data that is spread across multiple systems, a solution like Pimcore can help bring it together in a coordinated way.
In our increasing digitalised world, we see so many organisations that have their data contained in a number of different content management systems. Each of these systems is necessary for the business, because it helps individual teams to do different elements of their work.
But having multiple sources of information, and data located in multiple systems causes problems. It makes it really hard to identify which information is the most up to date and accurate.
The overall intent of a PIM is to bring multiple data systems together to ensure that data is being managed effectively. When you invest in a PIM, it will enable you to manage your digital assets, such as images or files, and relate them to your customer-facing website, webshop or app.
PIM systems help businesses:
Make sure their information is up-to-date and consistent
Bring information from different systems together
Create libraries of files, images and documents
Showcase products and services
Provide good experiences for customers
Pimcore is one of the most popular PIMS on the market. It allows you to merge your existing data and experience management systems. It's like the keystone for your digital content. It's the piece that holds the puzzle together.
Pimcore is agile enough to combine multiple content systems in one. The system provides:
Digital asset management
Product information/ master data management
Customer data and experience management
E-commerce solutions
When you make the decision to set up a PIM framework, it helps you to be confident that your customers and clients are accessing accurate and up-to-date content when they view your site or visit your online store.
By offering a system to centralise information from many sources, Pimcore helps you to regain control of your data. It helps you bring your critical content together so you no longer have to deal with information that is scattered in multiple systems and services.
Pimcore development
Don't know your DAM from your MDM? Your CRM from your CMS? There are lots of ways we refer to the various components that a product framework needs to be able to handle. These components originate from what are typically separate data systems.
That could mean that there are four, or more, systems that currently handle your data and information. There is so much benefit in bringing all of these systems together in a centralized and integrated way. Pimcore is one of the products that can offer this integration.
Effective data management
It's common that modern and complex organisations struggle to manage data. So often we hear stories of big companies that have been burned by bad version control or data that is lacking consistency and integrity. Issues with data management can cause a PR disaster or problems for your credibility.
On the data management side, Pimcore brings together the master data management (MDM) with the DAM (digital asset management). On the customer experience side it brings together the CMS (customer management system) or UX (user experience) and your e-commerce site.
All four of these often separate systems are happily married up in Pimcore, in an intuitive and accessible way. They can be used as stand-alone products, or run together to achieve the full benefit.
Truth from one source
Pimcore will help you achieve truth from once source. This phrase is used to describe the way that data is updated and maintained effectively across systems. By using a system that can manage and roll-out data updates, you can stay on top of all the changes and variations that arise as different people contribute to your projects and catalogues.
When a price or supply change needs to be rolled out quickly, you don't have to rely on your people remembering where that data is used. Pimcore helps you keep the information that is critical for your customers under control.
Through a process called omni-channel enablement, if you need to amend something that is referenced in a multitude of files and across multiple channels, you only have to make the change one time and then that change will be instantly rolled out across your market.
Behind the scenes, the data is handled in a sophisticated way. The code that makes this coordination happen is complicated, but as a user, you wouldn't know it. All the smarts that have gone into creating Pimcore leave you with a simple and flexible interface that allows you to integrate your systems with ease.

Marketing benefits
In the competitive online market, it is important you are consistent and clear across all your marketing channels. This includes your websites, apps, portals, shops, and more. Pimcore gives your business a great base to work from but with the flexibility to do it your way.
This framework allows you to process and pull together data models. If you use Pimcore, you will be able to create personalised workflows and processes that allow your people to use your systems in an effective way.
And in terms of end-user, it doesn't matter which device or interface your customers are using. PIMs like Pimcore help provide an outstanding experience for users when they access your website, webshop, digital signage or print apps. Your customers are guaranteed a pleasant and simple interaction.
Pimcore alternatives
There are more than 50 product information management systems out there. It can be hard to know where to start when you are looking for a system to improve your data and online presence.
Pimcore has unique capabilities when assessed against key data management and customer experience competitors. Some of these competitors include
Akeneo
InRiver PIM
Pantheon
Riversand
Salsify
Stibo Systems
Each of these systems has its pros and cons, and will suit some types of businesses more than others. What sets Pimcore apart is its flexibility. None of these other systems offer a total data framework in quite the same way Pimcore does.
Pimcore has proven it has outstanding capacity to collate data from a number of sources, including older legacy systems. This capability, to handle information from a multitude of sources, is somewhat unique in Pimcore.
Since 2009, Pimcore has been helping businesses big and small to conquer their data and to take control of their information. Pimcore was created to help to fill a gap in the market. This gap was an integrated framework that could centralize data and help businesses improve their practices for data management.
Perhaps it seems obvious to bring systems together, but there are few systems out there that can handle content in the way that Pimcore does.
And people love Pimcore! Because it is available for free as an open source program, Pimcore fans work to improve the system all the time. There is a large community network of users you can consult for advice and support.
Pimcore services clients who have millions of data records and images and supports websites which can handle traffic and will easily manage a million visitors each month. Many other systems simply don't have the memory to keep up.
Pimcore vs Magento
Magento is another data management system you might hear Pimcore compared to. Magento is an e-commerce system that focuses on creating a pleasant shopping experience through product and catalog browsing, and consumer analytics and reporting.
Pimcore has greater functionality than Magento, because it gives you the ability to manage not only your product lines, but all of the associated information. Because Pimcore manages all of your data on one platform, there is no integration of other systems required.
Because it's handling all of your assets and files, Pimcore is also better at helping you build brand messages. It can produce beautiful content that will showcase your products and services.
Pimcore beat Magento's open source version in every comparative category in this G2 study, with an overall user rating of 4.4 out of five stars, compared to Magento's 3.9 out of five stars.
In this comparative study, Pimcore was ranked higher on almost every category, some of which included:
Meets Requirements
Ease of Use
Ease of Setup
SEO
Checkout Process
Payment Processing
Cross Browser Support
Performance and Reliability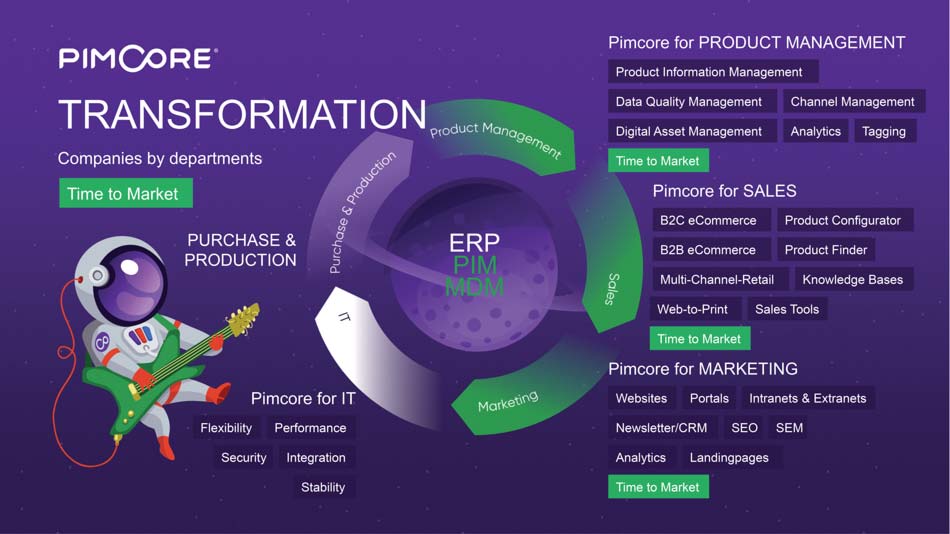 Pimcore data management
Do you deal with lots of data on a daily basis? Do you have an extensive product range, with supplies lists that need to be kept up-to-date and accurate? Investing in a PIM will help you keep all of this information under control.
A data management system is typically used to enrich data, while a digital asset management system handles assets such as images or .pdfs. In terms of capacity in data management, combining your DMS and DAM will certainly help you keep your data behind the scenes in a structured and organised way that benefits your operations.
Effective data management consolidates your critical information. It will help you rid your organisation of scattered data and make it easier for your people to share files.
Pimcore also has benefits for marketing, and your ability to process sales online. It will improve the experience of your customers and give you better customer engagement and insight, which in turn benefits your brand.
This too has benefits in terms of time management. By digitalising and combining your content you can get information out to your customers quicker. Creating, listing and updating products will happen more quickly.
Pimcore can improve your data integrity and quality. The information in your systems will be ordered, searchable able and organized. This helps your deal with data that is all over the place, and in more than one system.
Having ordered and coordinated data has been proven to have a positive impact in terms of return on investment. Organised data and systems will also benefit staff from all around your business. This includes:
marketing managers
business analysts
data developers
graphic designers
content managers
Staff from your diverse teams will appreciate the intuitive drag and drop interface which is great for managing graphics. The master data management component also allows you to work across multi-domains and multi vectors.
Pimcore can handle your work whether you have one office or forty. It can handle your information in one state or many. It allows lots of multi-national corporations to work across a multitude of time-zones and in different languages.
And to top it off, the data management components work perfectly with your e-commerce solution. It's a perfect pairing within the one central system.
Pimcore data manager
There are plenty of big organisations that now rely on Pimcore for managing their data. Major Pimcore users include:
Adidas
Burger King
Lego
Pepsi
Red Bull
Sony
Versace
Pimcore has also provided a digital solution to a number of automotive companies like Peugeot and Nissan. Even Ikea have enjoyed the benefits of this platform. Despite the complexities of the extensive Ikea range and variations, Pimcore helps Ikea to manage their product data and create an online experience that customers love.
You can see from this diverse list of customers that Pimcore can work in any industry. It doesn't matter what your goods or services are, Pimcore will help you manage your workflow and products. It will have benefit in any company that uses data.
More than 82,000 businesses in 56 countries already use Pimcore. The Pimcore Data Manager component will help you put some structure back into one of your most critical and precious resources; your data!
Data is centrally managed and updates are displayed immediately without any delay. You can imagine how useful this is for companies with multiple sites and in multiple countries.
Pimcore is an award winning data framework that will solve your data dramas and help your business centralize content. Pimcore will help you connect with customers in personalised, smart and innovative ways, building your brand.
Ditch those complicated spreadsheets. Combine those corporate systems. Get your content organised once and for all! If you're thinking a PIM will help you coordinate content in your corporation, then it is definitely worth considering Pimcore.