Pimcore and Magento are software systems that provide an ecommerce business platform where customers can browse products and catalogues and shop online. Each has pros and cons as an ecommerce solution.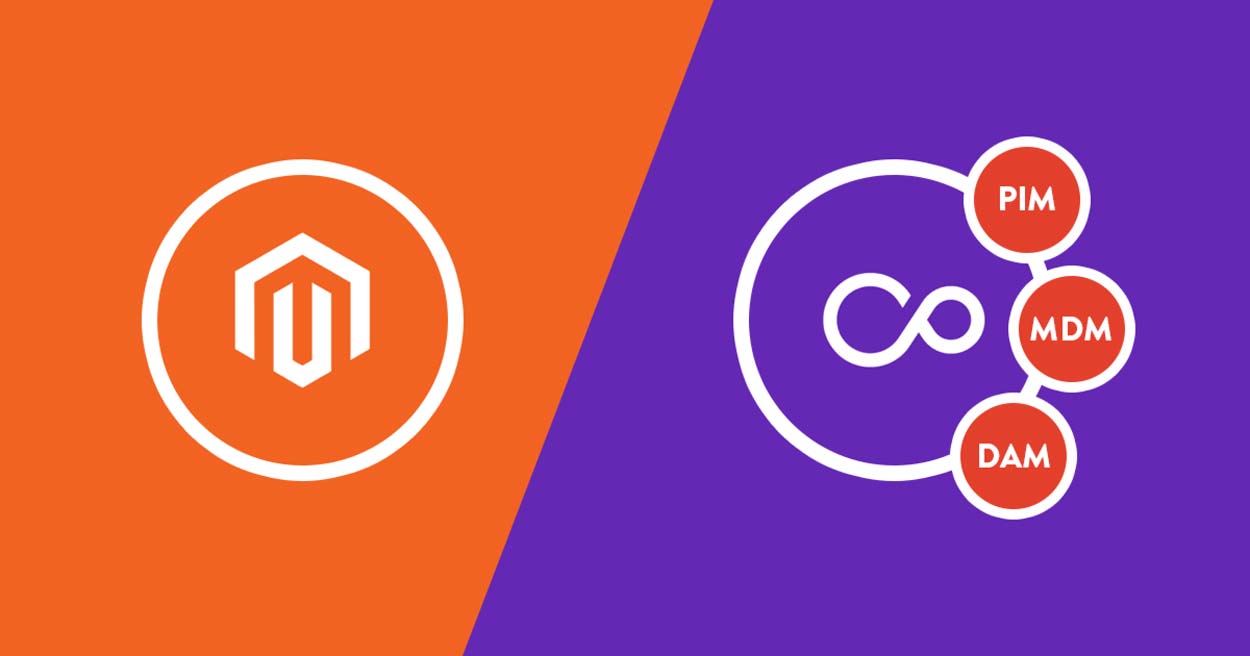 How does Pimcore differ from Magento?
Magneto is a popular ecommerce platform that helps you create an online store. Pimcore is that and much more. Pimcore combines an agile ecommerce service with other systems; product information, customer experience and digital asset management.
This creates a cohesive way of controlling files and assets.

Pimcore vs Magento - Examples of integration
Pimcore is a leading open-source product information management (PIM) system that helps you manage information and assets that originate from around your organisation. Magento has been around for many years, primarily as an ecommerce platform. However, it has the ability to function beyond buying and selling online. It can manage of any number of files, including all of the images, videos and pdfs that populate your ecommerce store.
Pimcore brings a new layer of depth and data to Magento, allowing you to enrich and synchronising the existing product information to your ecommerce platform. It brings about greater functionality than Magento because it gives you the ability to manage not only your product lines, but all of the associated information.

Zefgro and RNB
Cash and carry food company Zefgro reported an improvement in time to market delays by combining the two products to help them handle product and customer data. Swedish fashion and accessory company RNB, who have over 260 stores and sites in 10 countries, reported a great result when they integrated their ecommerce Magento store with the PIM and DAM capacity of Pimcore. They reported an incredible 43% growth over four consecutive years from 2016-2019.

Intersport
A successful integration of Pimcore and Magento has helped consolidate Intersport's ecommerce site. Intersport is the world's largest chain of sports equipment stores, with over 5,500 outlets in 40 countries. The integration allows Intersport to update data and product information globally and helps them mitigate some of the complexities of global trade, such as language and information exchange.

Ecommerce pros and cons of Pimcore and Magento
Magento does create a rich and pleasant shopping experience for users. It's been in the market for a long time and is considered a mature tool for your ecommerce site. There is widespread online community support, and if you're looking to recruit an ecommerce specialist, they will likely have had experience with this product.
Magento is both flexible and powerful.
It provides great consumer analytics and reporting which can help you manage stock and marketing.
Gives you guidance about trends and customer behavior.

There are plenty of ecommerce sites that are set up and run with Magento that work just fine. But Magento can also be complex and slow. Some users find that it has poor code quality and find it too difficult to be able to customise and adapt especially for larger scale projects.
Magento also lacks advanced product information management services and has limited CMS capabilities. If you have product data originating from many sources, you will likely find that Magneto just cannot fix all of your information and source issues.
Because of its flexibility, Pimcore is becoming more popular with enterprise business and emerging e-commerce traders. Pimcore is better for B2B and B2C companies who are committed to providing a top-quality content experience for customers.
Pimcore's extra capabilities mean you can save time getting your products created and listed online. This saves time, can avoid duplications and reduces time to market. It can also give users a more integrated digital experience which will increase the chances they return again and again to your online store.
It provides a more coordinated and consistent experience for users. The way that Pimcore combines a CRM system. This means there is an easy way to incorporate customer data and records in the same system.
User experiences of Pimcore and Magento
In terms of ecommerce capabilities, in this G2 study, Pimcore has been rated higher than Magento's in the following categories:
Ease of Use
Ease of Setup
Checkout Process
Payment Processing
A high percentage of respondents to this survey were from mid-size (54.5) to enterprise companies (15.2) proving this it is in this sized business that Pimcore is best placed.
Pimcore also has the capacity to grow with your ecommerce site. You could easily begin with just the product information and ecommerce components and then incorporate other elements as your business grows. This capability can be hard to get your head around at first, and some users find their initial planning needs to be reconsidered when they get to grips with what Pimcore can do.
Because it can do more than Magento, some users do report that Pimcore is more complex than they were expecting, but its in-built scalability means it can be operated at a level that suits your capabilities. Pimcore also makes sure that the system is created in a way that is intuitive for less-experienced users.
There are committed groups of developers who love Pimcore - its framework approach means if someone has an idea about how to run a workflow or catalogue, there isn't the need for complex overwriting and customisation can be done relatively easily. This flexibility will support innovation from your users.
Magento to Pimcore integration - how is it done
If you want to acquire and install the Pimcore- Magneto plug-in, you will need to acquire and install Pimcore. Then, working from the Pimcore system, there are a series of steps to be completed which will allow the systems to integrate. Magento's settings menu has options related to both extensions and integrations.
The next steps include
Ensuring that configuration commonalities
Verifying product and category classes meet requirements by assessing fields (name, description, URL, is active, is visible, EAN and other attributes you want to synchronise
Verifying you have web API enabled in Pimcore
Generating an API key which can be copied to Magento
Enabling a bridge system and access to Magento with passcodes
Synchronising data between the systems
Publishing the integrated data
The integration will enhance your ecommerce store and allows you to take advantage of the other digital services Pimcore provides.
Can You Use Pimcore and Magento Together?
If you are already established with Magento, why not consider running both?
The plug-in allows you to supplement Magento with product data, information and assets, enhancing the customer experience and enabling you to operate more easily at a larger scale.
By combining the systems, you will enable real-time collaboration between staff from any location, plus enable access to others who might need it.
Adding Pimcore to your Magento store will give you greater capabilities behind the scenes and help improve the experience for your customers. One-way Pimcore can support Magento is by handling files associated with different products such as instruction manuals and technical guides that are related to products in the online store.
If changes are made to these documents, Pimcore can roll out the updated document out across the site, or sites. This is a task that would have to be done manually in Magento.
When you integrate Pimcore with Magento, you will be able to consolidate all your existing product data, organise your files and efficiently process them throughout the whole company. Pimcore will support your omnichannel sales system and give more accurate, searchable and accessible product information and data.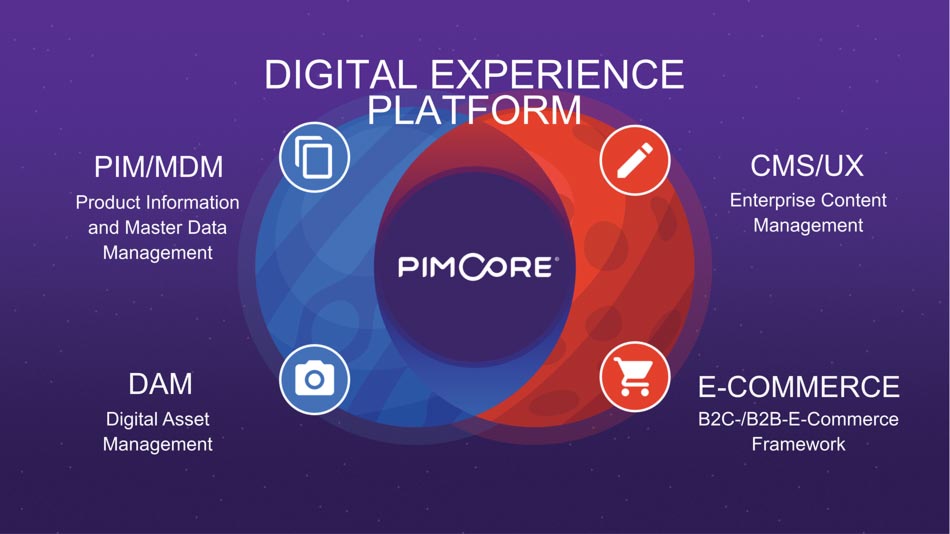 Pimcore costs compared to Magento
Pimcore have promised to keep their open source community version forever free. Enterprise and Unlimited subscriptions offer loads more features to set your ecommerce business in good stead for the long haul. For the free, self-hosted edition you will get
Experience Manager
Data Manager
Open Source GPLv3 License
Community Support
For the self-hosted Enterprise Edition which starts at $1.99/year you will get
Experience Manager
Data Manager
Commercial License
Community Support
SLA-backed Support
When you get a quote for your annual subscription to the Cloud edition, you will get all Enterprise features plus business and solution consulting, support with implementation and integration, plus training.
Magento also offer three options, including the open source edition. However, you may find that you start needing to fork out more money to achieve any degree of great customisation.
To begin with a simple website theme that works with Magento can cost between $29 - $499. (Sourced from Themeforest.net). Other factors (and added costs to start with) will include:
Hosting options
Level of customisation
Themes and extensions
Custom development
So even the most basic site built out of the open source version has been suggested to cost between $15,000- $18,000. The cost of Magento Commence (formerly Magneto Enterprise) and Magento Cloud will vary depending on the revenue of a business. For instance, businesses with revenue of a $10,000,000+ could be looking at fees of $125,000+ a year.
Should I get Pimcore or Magento?
If you are wondering which of these options is for you, here are some final benefits of each.
Pimcore
Price point
Offers services beyond just ecommerce
Integrates with other systems
Agility and flexibility
Customer experience focused
Magento
Familiarity in the industry
Ease of use
Combining these two platforms to help you manage your ecommerce platform and ultimately improve customer experience in your online store.