All sorts of businesses that trade online have many products and digital data to manage. They can benefit from using a Product Information Management (PIM) system.

What is Product Information Management (PIM)?
Product Information Management (PIM) refers to a process that collates and organises product data from across a number of systems or platforms. A PIM system pulls together information from multiple locations, programs and files to help you better manage the products you sell.
By using a PIM you will be able to integrate existing data systems by collating and bringing together information contained in your records, catalogues, files and marketing material. A PIM will present this information and make it available to all of the people from within your organisation who need to use it.
A PIM allows you to update information in any inventory system and have that change immediately rolled out across all of the channels.
Benefits of PIM
As e-commerce technologies and digital presence allow us to have extensive online stores and showcase our products to more customers, the management of information about these products becomes a bigger and bigger task. It's not uncommon for online retailers manage product catalogues of tens of thousands of items, with multiple product variations and sizes.
Customers could be viewing your site from anywhere in the world and expect to be able to complete a transaction easily at any time of the day and night. There is nothing more frustrating than to order and pay for a product online only to be told the item isn't in stock. If your customer has one bad experience with your e-commerce site, you'll likely lose them forever.
By investing in a PIM system you will be employing software that will:
help you win and retain customers
improve information flow and exchange
provide accurate and consistent product and marketing data
send updates to the people and sites that need them
streamline your business and approval workflows
increase efficiency across your online presence
operate more effectively in a global environment
multichannel data distribution
PIM tools
There are a number of PIM tools on the market and each has slightly different offerings. The first generation of PIM tools had detailed and extensive back-end infrastructure, which in some cases makes them less agile than newer systems. Today, these systems may also have higher installation costs. Examples of first-gen PIMs include:
inRiver
Riversand
Hybris
Stibo Systems
Newer PIM tools have capitalized on faster technologies and are more customizable, but this can sometimes mean a higher degree of product knowledge is required to get you set-up and on your way. Examples of second-gen PIMs include:
PIM AI
Regardless of the system you chose, your PIM system will have the ability to ingrate your other data systems and present product information in a consistent way to your staff and customers. Whichever PIM you chose for your workplace, you can expect a system that will:
assess and integrate data from other systems
publish content centrally
manage product data such as descriptions, tags, price and images
carry out updates across all platforms
PIM systems ensure that the most current information can be accessed by and shared with those people who need it. Some of the systems that most PIMs can integrate include Xcel and CSV files, InDesign, WordPress, Shopify, Google Shopping and more.
When you employ a PIM, you can trust that there is a master source of data, which will give you an accurate and updated source of information that your team and customers rely on. No more inconsistent and duplicate files, no more problems with version control.
PIM systems
The sheer volume of information that modern marketers and businesses need to deal with is surprising. Information might be stored in multiple locations around an organisation.
Products are increasingly customisable and come in variations and configurations. There are images and descriptions, tags, product packaging specifics, special offers and codes. Then there are different struct ures which might change according to customer or sale location.
When sales are happening through different portals and under different conditions, your team members might need to check emails, websites, spreadsheets and databases to check which information is current and correct. A central, master repository can help reduce the risk of bad product information management and errors which customers encounter.
What makes a great PIM system?
A great PIM system will help you get rid of data problems such as:
Inaccurate and complex records
Poor version control
Inconsistencies in document naming, filing and storage
Product information that out of date, incomplete or incorrect
Manual updates required across multiple systems
Inability to track changes or determine which user has performed a task
Difficult permission processes
Poor search results for website users
What a PIM is not
While your PIM system will integrate a number of your existing systems, it is not intended to replace them entirely.
A PIM is not an Enterprise Resource Planning (ERP) system, which commonly handles orders and invoices. A PIM sits beyond the repository that is the ERP that accesses product information contained in other systems like the ERP, as well as publishing data to online websites, stores and apps.
A PIM does not handle your direct interactions with customers through Customer Relationship Management (CRM) or Customer Experience Management (CX). While a PIM will help ensure your customers have access to up-to-date information about your stock and supplies, and will improve their online browsing experience, a PIM does not deal with your customers directly.
Your PIM software does not replace the need for a behind-the-scenes inventory management system and process. If you are dealing with physical stock, you will still need proper stock control systems to count and move products around and keep records about supply.
PIM case study
Esther is the founder of high-end jewellery business which distributes internationally. Her company imports products from many suppliers across five countries. To sell both wholesale and direct to other jewellers.
The COO coordinates an online shop and has managers to help with their wholesale clients. The business has been growing and they now sell through multiple channels at retail as well.
The company distributes through eBay, Amazon, Wish and through a multitude of lesser known retail channels, continuing to sell worldwide.
The company also employs content creators to help market their products to specific target audiences and help respond to regional preferences. Sometimes this means creating special offers for certain customers and continually adjusting prices for various markets as well.
With so many moving parts across an international scope, the business is never "closed" for the day. A business as complex as this needs a Product Information System to keep things running smoothly and be proactive rather than reactive. Allowing growth to continue; being one step ahead of what is required.
Can anyone run a PIM system?
If your business deals with data that is spread across multiple channels and you have sales and stock that are always updating and proving a little difficult to manage, then a PIM system will make operating your business easier. The more people and products you have, the greater the chance that you will have challenges in managing your data and the more room there is for errors in your information.
If you're looking for a system to centralise your information and make up to date content available to staff and customers, then it's worth considering a PIM.
You will find a PIM especially useful if you want to combine your existing:
digital asset management system
product information/ master data management system
customer data and experience management system
e-commerce solution
multilingual product setup data description
scalability
adaptability
flexibility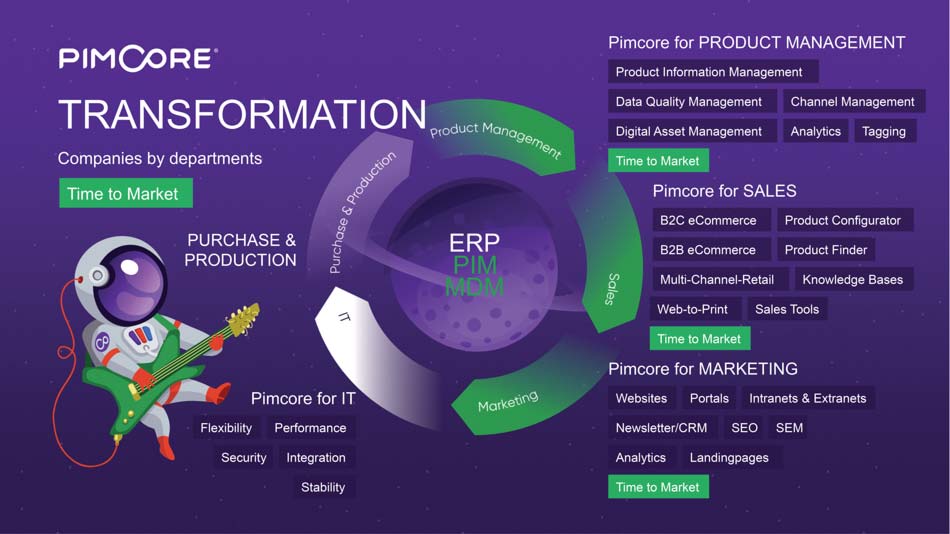 When is the right time to invest in a PIM system?
If your business is growing and you're wondering if it's the time to invest in a PIM system, it might be worth asking yourself the following questions:
Do you need some help to streamline process and communications?
Is your catalogue too big to be able to coordinate using basic spreadsheets?
Are you limited by the data you can extract about trends and sales from the systems you currently have?
Are you noticing mistakes and errors when reviewing sales reports?
Have you identified processes that result in a duplication of effort?
Do you want to improve return on investment for online marketing and e-commerce sites?
Have you missed growth opportunities because of poor coordination?
If you have answered yes to one or more of these questions, your business might be ready to move to the next level of product management. It could be the right time to invest in a PIM system.
When you install a PIM system you can be sure that you are taking steps to streamline and coordinate product information and ensure accurate product information is reaching your customers.