Integrating your Enterprise Resource Planning System and your Customer Relationship Management solution makes great sense.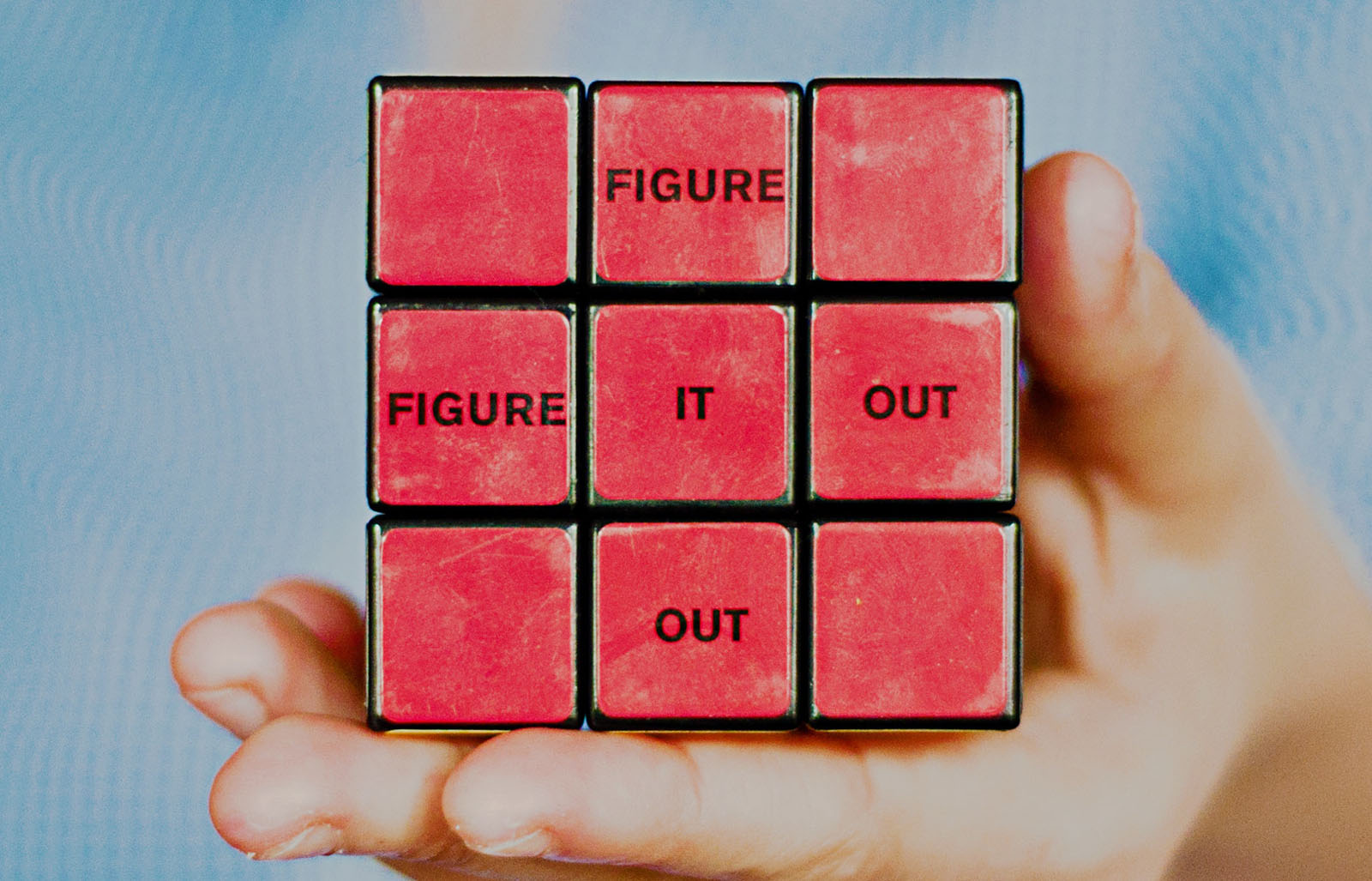 So, how do you best integrate ERP and CRM?
ERPs are often categtorised in relation to their primary purpose, including accounting, distribution, planning or procurement. Within the ERP, these components are offered as what is known as SaaS (Software as a service) to equip employees with the specific systems they need for their role. Integrating both the outcomes above is key.
The combination of the SaaS components within the ERP gives the authority to sit over and across the separate components, enabling information to be carried through the different programs and bring records together in a centralised way.
The integration will boost productivity and improve efficiency across the business. Combining these two platforms will give everyone access to vital customer data such as preferences and purchase history. But considering a Product Information System instead of integration can bring even more benefits.
What is ERP?
Enterprise Resource Planning (ERP) systems and software help a business to manage various components of the running of the company. These components are the diverse elements fundamental to running a business and can include:
Supply and stores
Service delivery
Finances
Accounting
Payroll
Personnel and human resources management
Procurement
Project management
Risk management
Compliance
Who uses ERPs?
The ERP is a tool to help internal processes run smoothly. As the name suggests, the ERP operates in relation to a company's resources- be they stock, financial, personal or information-based. ERPS are often focused on the administration of a business, rather than the customers or communications that the business distributes.
ERPs can be useful in organisations across just about any industry. Because components, or applications, can be tailored to suit the specific needs of a business, ERPs are commonly used in the following industries:
Defence
E-commerce
Finance and banking
Government
Healthcare and medical
Industry and manufacturing
Not –for-profits and service providers
Retail
Technology and communications
Managing and using data in ERPs
ERPs bring data together from across different subsets, or SaaS applications, to create a centralised point where staff can access the information that they need. An ERP eliminates the need to maintain separate records, data sets and spreadsheets by sharing information across applications. ERPs can be used to generate comparative and cohesive reports from multiple perspectives.
What are the benefits of ERPs?
Many businesses rely on their ERP to coordinate the complex elements of the business, which seem disparate even though they need to interact at certain points. The benefits of using an ERP in a small to medium-size enterprise include:
Efficiency - avoiding the need for multiple records and files across systems that can't interact
Integration - of key sets of information, enabling a holistic view of resources
Support of decision making - through access to clear information about resources available, committed and due
Compliance - accurate records can be kept securely and accessed for auditing purposes
Accuracy - by reducing the need for data to be put in multiple data sets, reducing the risk of error
What is CRM?
A CRM is also a software tool. Unlike the ERP, which focuses on internal elements of the business and the administration and management of resources, the CRM is focused on the customer. CRM technology can help you provide better customer service and build better relationships with your customers, benefiting your brand. Improved brand and a high degree of customer loyalty are both critical for retention and growth.
CRMS store information related to customer interactions, making it easily accessible for customer services officers. These records include those acquired in different ways, such as emails, direct messages, live chat, and different interfaces and systems such as online sales tools, websites and subsites, or social media. This means they can quickly resolve customer queries and complaints through easy access to all of their information.
Who uses CRMs?
CRMs are used across all kinds of industries, usually where there are multiple service arms and brands, and when customers interact in various ways. Companies with multiple sites, operating nationally and internationally need a central responsibility for client data. CRMs can also maintain data about suppliers, contractors and other agencies your business interacts with.
Managing and using data in CRMs
CRMs don't just record sales and transactions. A CRM can capture records relating:
Website visits and use
Phone calls and emails
Referrals and engagements
Complaints and refunds
Order and stock details
Personal information
What are the benefits of CRMs?
Providing easy access to information about a customer is the purpose if a CRM. This benefits the customer because it removes potential points of frustration. Customers can contact a company and have their contact treated efficiently and in a way that acknowledges them as unique and important. But the CRM also benefits the business by gathering information that you can use to encourage business growth, such as with marketing initiatives.
A CRM can help you:
Improve customer relationships
Build brand loyalty
Retain valuable customers
Inform product development and offerings
Provide quality service
Access accurate and up-to-date records and information at any time
Automate customer interactions such as emails
Build employee engagement
Benefits of integrating ERP and CRM
Bringing together two disparate ERP and CRM systems will benefit your whole businesses by consolidating knowledge and enabling interactions to occur across customer and product records. Integration of these solutions will enable you to ensure key users and stakeholders have access to consistent and meaningful information. There will be a clearer line of sight for both customer relations and administration staff.
Integrating ERP and CRM systems make it easier for everyone to provide a high level of services. It can also boost employee engagement and morale by eliminating data access and version control challenges.
Integrating these two platforms will enable you to:
Streamline multiple business processes
Offer everyone in your organisation easy access to customer data
Enable better sharing of information about personnel and other stakeholders
Reduce the need for duplicate records
Reduce the risk of data entry errors
Remove tedious and time consuming tasks from staff
Be prepared to scale as the business expands
Ensure data security and a higher degree of data integrity
Match income to customer data
Improve return on investment on data and software expenses
Risks when integrating ERP and CRM
There are certainly some risks associated with trying to integrate two separate systems with as categorically different objectives and points of focus as ERPs and CRMs. The challenges relate to each piece of software's different objectives and the high likelihood that there are not consistent data fields, entries, and records across both.
It's also important to choose the right integration method from vertical integration, horizontal integration, or star integration. These methods relate to how the integration is carried out and how the two systems interact to achieve the required level of information exchange.
What is Product Information Management?
A Product Information Management (PIM) system brings together all kinds of files and information related to your products (or services) by creating sophisticated records about each. PIM tools help to consolidate information about your products, even if you stock many thousands, or hundreds of thousands of items, including those that can be personalised.
PIM systems hold large quantities of information related to both products and customers. PIM systems operate in real-time, meaning everyone has access to immediate and up-to-date information as it enters the software. There is no need for duplication of records across multiple systems or platforms. PIM offers a single source of truth.
PIM systems also have the capability to act as an ERP by holding information about what quantities are available, allowing for efficient stock control, warehousing and distribution.
What are the benefits of a PIM?
PIM systems are designed to deal with, process and present large amounts of data. PIMs can handle complex product information, product customisation and hundreds of assets, with a single source of truth. This provides access to information to everyone through the business. PIM systems create a thorough and engaging interface for customer interactions, and can capably handle information related to stock, availability, warehousing and product information.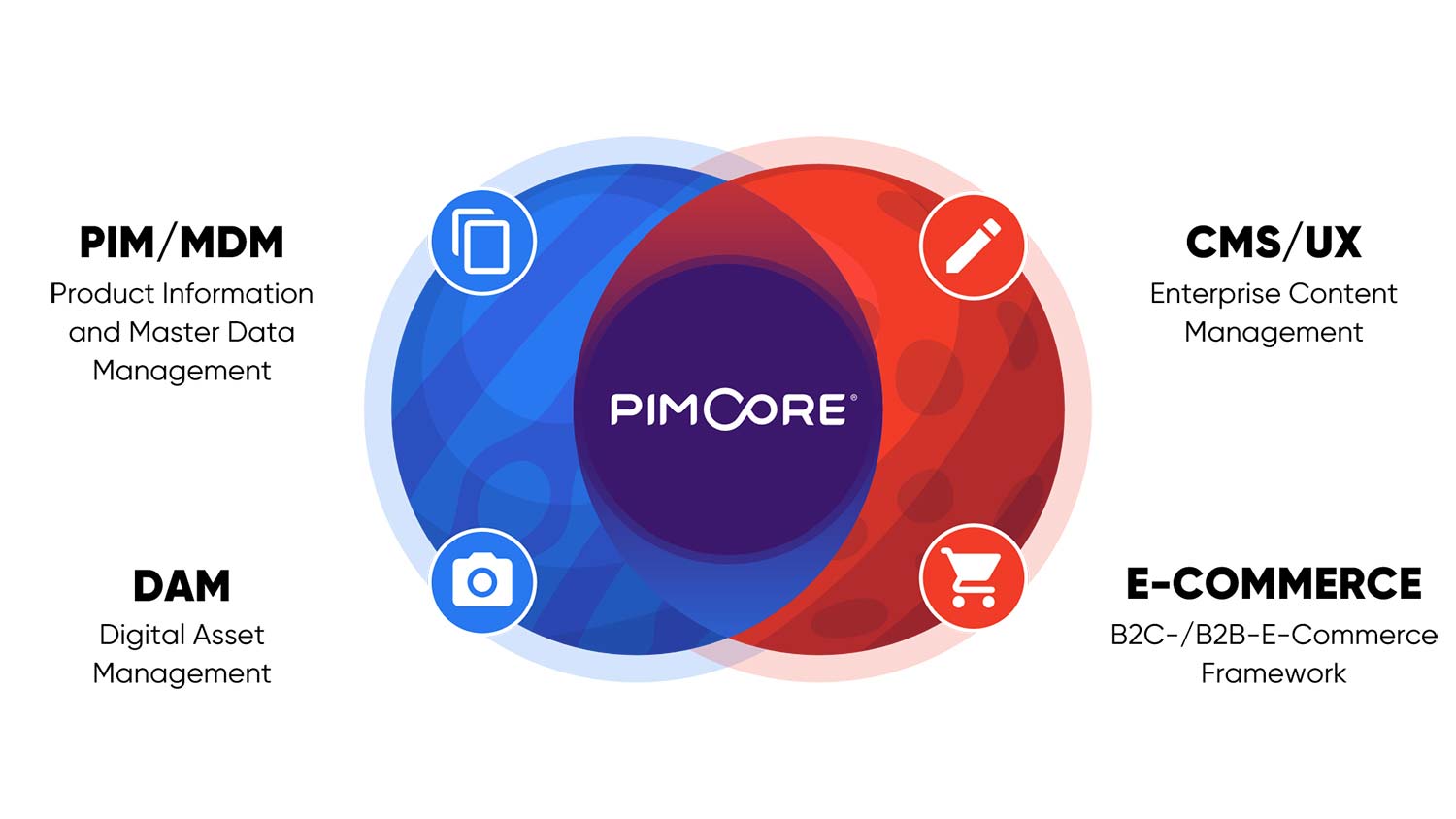 Image: Pimcore PIM/MDM, DAM, CMS/UX, E-commerce. (source: pimcore.com)
Managing and using data in PIM
PIM systems can help an organisation take control of the mountains of data that can amass. PIM systems can automate complex product information processes. They can also deal with large amounts of data across thousands of products and catalogues. They retain and present information about services, channels and vendors eliminating the risk of manual data entry, which is tedious and repetitive.
Why a full PIM is better than integrating ERP and CRM
Your products are the point at which your ERP and CRMs meet. Products are both internal and external- they are resources and so can be detailed within an ERP. But they are also related to and are the primary focus of your customers. Customers come to you for access to your products or services.
Because it is built up around products, a PIM will enable you to operate across both the internal and external components of running your business. Using a PIM rather than trying to combine an ERP and CRM will:
Help you create an organisation that is focused on the needs of the customer, by understanding their requirements and expectations, while having all of the tools in place behind the scenes to support an outstanding customer experience
Enhance collaboration right across the business, from customer service representatives and marketing and content creators
Keep a line of sight to the overarching business vision and goals by keeping supporting team members engaged with what is happening in public-facing parts of the business
Build rapport with internal and external stakeholders, though access to service components for contractors, contributors and other parties
Enable you to grow as the business grows, with a fully scalable system and can be designed around your needs from the ground up. This means there is no need to change or modify your approach down the track- as your business evolves and expands, so does your PIM
How PIM is used in SME's with success
PIM is used to handle separate parts of a businesses; products, customers, data and information. PIM is well suited for use in small to medium enterprises because it replaces the need for separate CRM and ERP systems to be customised and adapted to allow necessary information flow.
Being focused on products, PIM helps a business with the varying components of work:
Sales - creating beautiful, easy to use, personalised and accessible sales portals and websites
Marketing - through automated content that hits the market every time
Service - a high profile and easy to use service tool through which your people can see every transaction and interaction and respond in a knowledgeable and authentic way
Stock handling - real-time updates about what stock you have, what needs to be dispatched and where there are delays or issues
Asset management - reports, files, photographs, videos, product guides and any other file you need to be accessed
How Stimulus can define your scope of work and make life easier
At Stimulus, we specialise in building content solutions for modern small and medium size enterprises. We can help you scope and design an enriched data management system that will create a fantastic front end experience for your customers and showcase your products, while operating with rich and efficient processed and workflows in the back end.
We can help you decide if you want to integrate multiple solutions, such as separate CRMs and ERPs tools, along with others including Point of Sale and digital asset management systems. Our team will work with you to ensure you have a clear strategy for how you will use information, data and automation within your business.
In many cases, we suggest using open-source solution Pimcore to create for you a cohesive platform for your operations. We can assess your data and content requirements and help you set clear objectives about where your business needs to be in terms of data access, integration, storage and use. We can help you create a high-end, responsive and sophisticated digital presence that operates effectively and efficiently behind the scenes.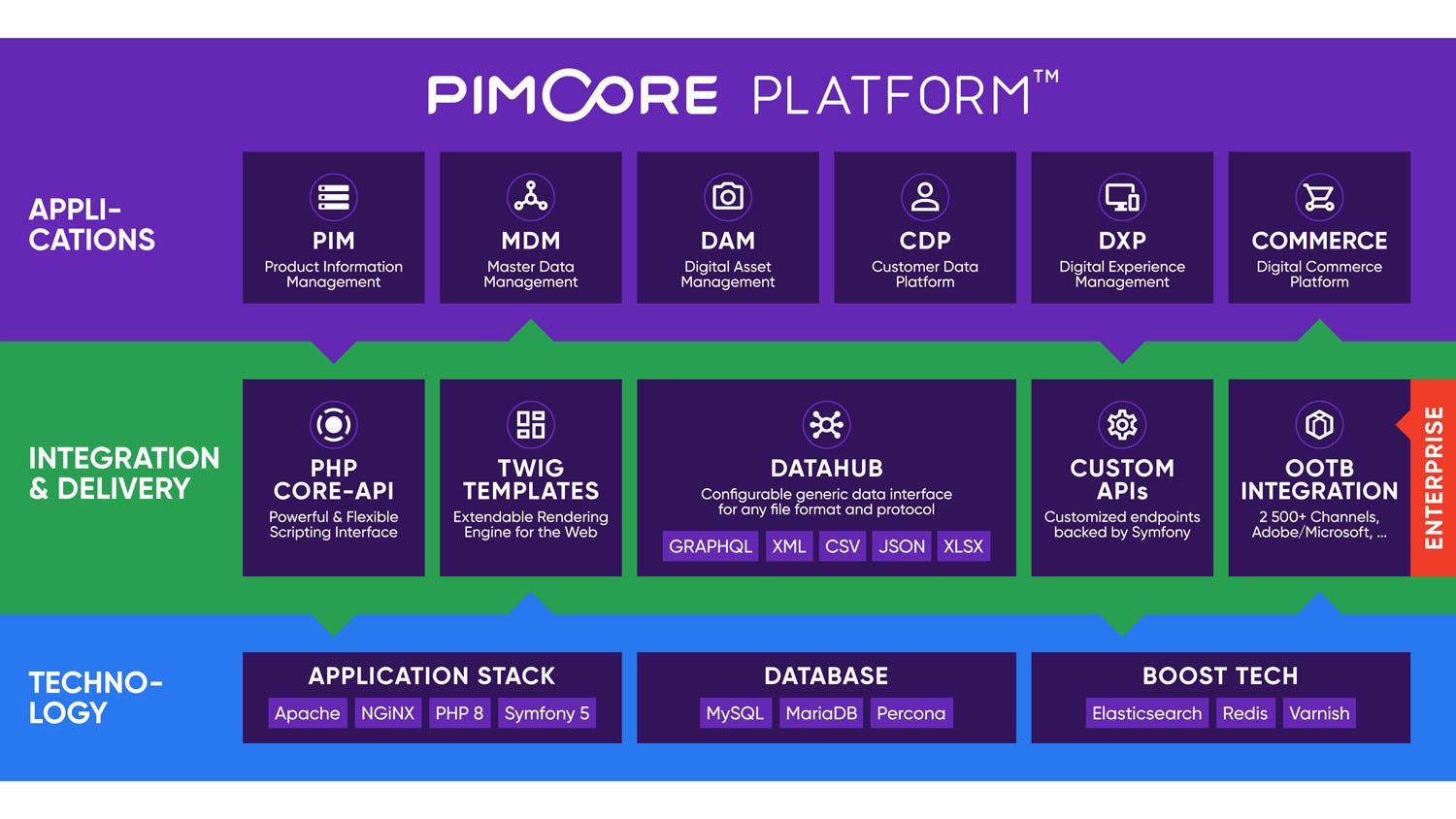 Image: Pimcore Technology Architecture PIM/MDM, DAM, CMS/UX, CDP, E-commerce. (source: pimcore.com)