You may have heard that CRM is transforming businesses around the globe. But what are CRM tools? And how can they improve your business? In this blog, we look at how deploying a CRM could revolutionise the way you work.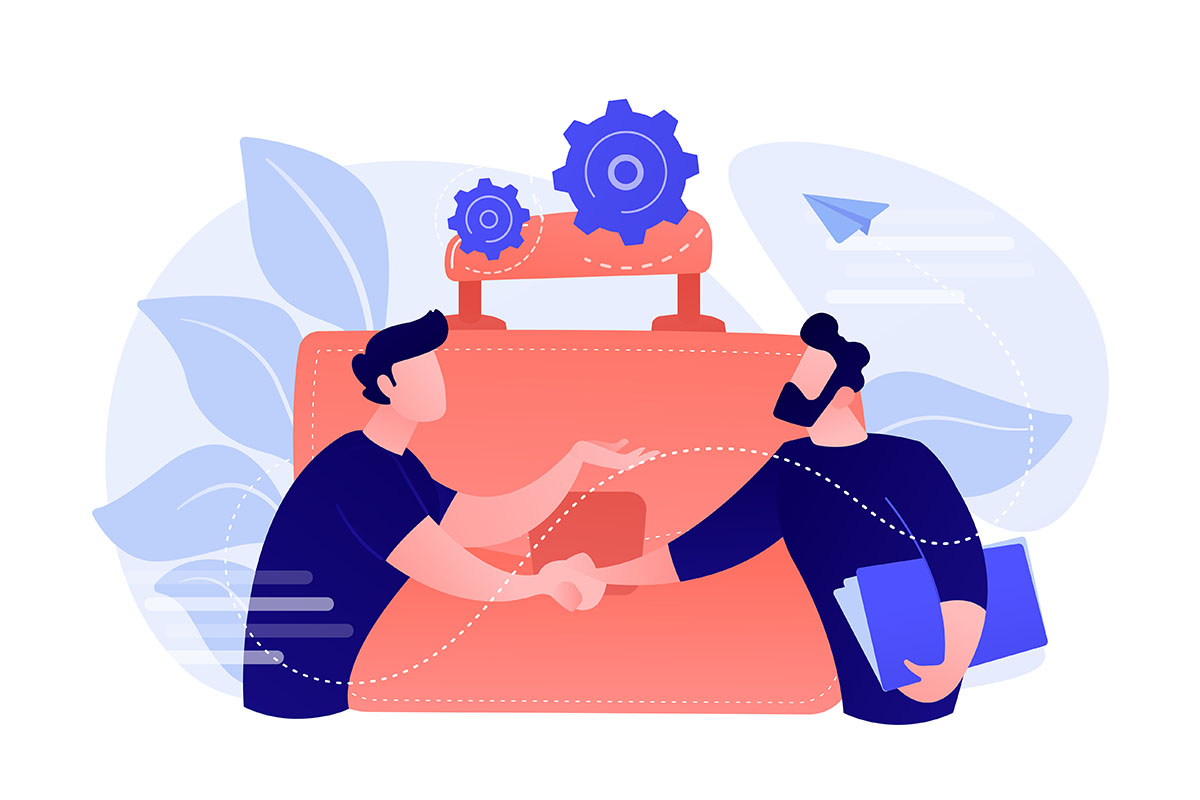 Image by vectorjuice on Freepik
So how can a CRM transform your business?
CRM systems are "Customer Relationship Management" tools and they are being recognised as innovative technology systems that can flip your whole focus toward the customer. There are so many examples of business, big and small deciding now is the time to roll out a CRM.
But for organisations that are not technologically mature, there is often a need for more understanding about what a CRM is and what it can provide. Are CRMs a flash-in-the-pan software solution, or are they here to stay? Is all the hype about the benefits of CRM platforms genuine and founded on fact? We think the latter.
Providing exceptional experiences with CRM
Providing quality customer service and engagement is a common business goal these days. We all know that many more transactions and interactions than ever before are happening online now. Fewer businesses have shop fronts and even for those where there is a brick-and-mortar store, there are often still many interactions that occur online through transactions, requests and emails.
We all expect that when we contact a company, they will have ready access to our previous requests, purchases and personal information. Our expectations of how a business should respond to this are true for even complex organisations like universities, banks, government agencies and health providers. A CRM provides the best customer experience for customers seeking knowledge, requesting services, and interacting with an organisation. A CRM can enable a customer-centric culture, improve user experience, and help you realise operational efficiencies.
CRM advantages
CRM systems help you to build and maintain effective relationships with your customers, and potential customers. How is it possible to know if your CRM is really achieving what you intended for the solution? With a CRM, what will you see less off, and what will you see more of?
You could anticipate seeing a reduction in:
overall volume of calls, webchats or emails
handling times for orders
administrative errors
delays in response to issues or complaints
duplicate tasks
unfulfilled orders
You could anticipate seeing an increase in the:
accuracy and integrity of meaningful reporting
opportunity for resolution at the first point of contact
levels of employee satisfaction
number of self-service contacts, through which customers can carry out the activity they want to complete
Main differences between CRM solutions
The options around a CRM can seem overwhelming. There are many systems and solutions to choose from, with variations in how they are deployed, their functionality, how scalable they are and what value they will bring to the business. There are also many systems designed for specific industry types. Of course, there are also differences in cost. Beyond these differences, there is also quite a lot of variety in the degree to which the CRM can be customised.
Custom CRM
Some companies determine there are too many variables with out-of-the-box solutions and elect to have a customised CRM solution developed to their specific and individual business processes, needs and requirements.
A custom CRM considers your existing practices, legacy data and softer elements such as corporate identity and standards. It is developed in response to the analysis of your particular business. Using a custom-created CRM enables you to express your corporate identity and will increase staff engagement because your employees will recognise that the system has been developed with them in mind too. Custom CRM solutions also enable you to set your future vision and are scalable in terms of where you are now and want to be in the future.
Benefits of customised CRM
Selecting a CRM that offers a high degree of customisation, or approaching a supplier to create your own unique CRM can have its benefits. These include:
• avoiding the cost of multiple installations and subscriptions across extensive networks
• designing a solution that is perfect for your intended use and that will support the future growth of your business
• the ability to feel confident that your solution is secure
• embedding a system that is easy for your employees to use because it is related to your operations
• saving time and resources by not having to deliver or train on components of a system you never intend to use
• flexibility for the implementation of enhancements and changes
How your teams may respond to CRM
Different teams within your business may respond to a CRM project differently. Although you may see some resistance among your customer service people (the folks who deal with and interact with customers as their core business) the benefits usually become apparent pretty quickly.
The IT team may consider the rollout one of their biggest projects, but updating and improving systems is what they are all about. They may be excited about a solution that will help create an integrated customer database. This can mean they can get rid of legacy data that is clogging up storage and which they probably know isn't being used to its full potential.
The marketing team will likely already have a clear idea of the benefits of a CRM. They know that your company brand is not only built on advertising and promotions but is inherently intertwined with how you interact with customers. Providing excellent customer experience makes it easier for marketers to achieve their results. CRM systems give marketers real-time information about the market and customer opinion. The data and analytics you can extract from a CRM make it much easier for marketers to decide which campaigns have worked and which have flopped.
Senior leadership will be impressed with how CRM can help drive your business toward growth. If the company has a strategic goal to use technology, be change-ready and reach a higher level of data maturity, then the CRM rollout will give leaders a lot to be happy about. They will also see improvements in internal collaboration and a higher level of data- and workforce integration.
How to create CRM strategy in 2022
One of the absolute benefits of using a CRM right across your enterprise business is that it enables all of your personnel to do what they do, to the best of their ability. When you enhance performance through data, customer service and marketing it often means that everyone is inspired to improve.
A CRM system really enables your whole organisation to adopt a methodology of practice that benefits across the board. Your marketing team can create messages that are based on rich customer insights. Analysts and planners can access accurate, real-time data that is meaty enough to produce factual information about what is happening in the field. The IT team are empowered to create a system that suits the need of the business and is easy and intuitive for personnel to use. Without a tool that encourages collaboration between the various teams of your business, you won't be able to guarantee the high level or service that you are after.
Outcomes from CRM
Business transformation through CRM is achieved by:
providing an overall better customer experience which improves reputation and brand
creating a single point of contact resolution through easy access of customer data
the achievement of strategic objectives; the realisation of the corporate vision and goals
better knowledge management and data delivery
improvements for staff through ease of access to relevant information
operational efficiencies in both time-to-service and cost to service
Combining CRM and PIM
We always recommend considering Pimcore as a part of CRM solution. Although this European-designed and created product is not singularly a CRM, it has modules that encompass all of the elements that a CRM should provide. Today, Pimcore serves more than 100,000 companies in 56 countries worldwide. It is a flexible tool that can create outstanding customer experiences you would expect with a cohesive CR and CX solution. Pimcore offers components in Product Information Management (PIM), Master Data Management (MDM), Digital Asset Management (DAM), Content Management (CMS), Digital Commerce and Customer Data Platform (CDP).
The Benefits of PIM and CRM Integration?
As providing exceptional customer experience, higher sales and growth turn into long-term goals of organizations, a PIM and CRM integration can work as an ultimate means to achieve higher customer retention, and brand loyalty. Lowering product data inconsistencies, bolstering customer relations, enhancing product data dissemination, and personalized attention to customers can be a shot in the arm for businesses in more ways than one. A few of the most significant advantages of PIM and CRM integration are:
Enhanced Customer Experience (CX): Both aid customer experience immensely—PIM by offering the best product data, CRM by maintaining customer relationships to target their needs.
Analyzing and Aiding Buying: When serving customers well is the main objective, it makes sense to know their buying habits while offering them products in an omnichannel environment.
Employee Enablement: As employees across organizations get a comprehensive picture of the customer and the product data from ordering to query resolution, it empowers them to do a better job.
Sales Efforts Match Sales Results: Anticipating customer requirements while presenting enriched product data around the latest trends and customer inclinations increases sales success.
More Selling Opportunities: Keeping tabs on the complete customer activity along with great product data makes cross-selling, up-selling, and targeted marketing much more effortless.

Related questions
How much does CRM cost?
Because there are so many CRM options on the market, it is difficult to state an exact price. How much you will pay depends, of course, on which system you choose and many variables related to the add-ons and options for that solution. Some CRM solutions are charged at a cost per user- so the ultimate price will depend on how many people will need to use the system. You can also investigate open-source solutions, which are free or have a minimal cost.
What is the best CRM for enterprise business?
There are literally hundreds of CRM options on the market. Identifying, assessing and selecting the right one for your business can be an overwhelming thought. It is undoubtedly a long-term and strategic project to embark on. Your CRM will change and improve how you connect with and interact with your customers. It could also revolutionise how you access and use data.
Each CRM on the market has been designed with a different business and intended use in mind. Some very commonly used CRMs for enterprise business include:
Salesforce – with a plethora of features, including lead generation, sales forecasting and automation
Monday sales – a popular product that began life as a project management and workflow tool
ZOHO – offering cost efficiencies
Nimble – ideal for working within the Office 365 environment