There are many CRM solutions on the market, so in this article, we will provide you with a list of some top-rated CRM platforms along with insights into how they could work for your business.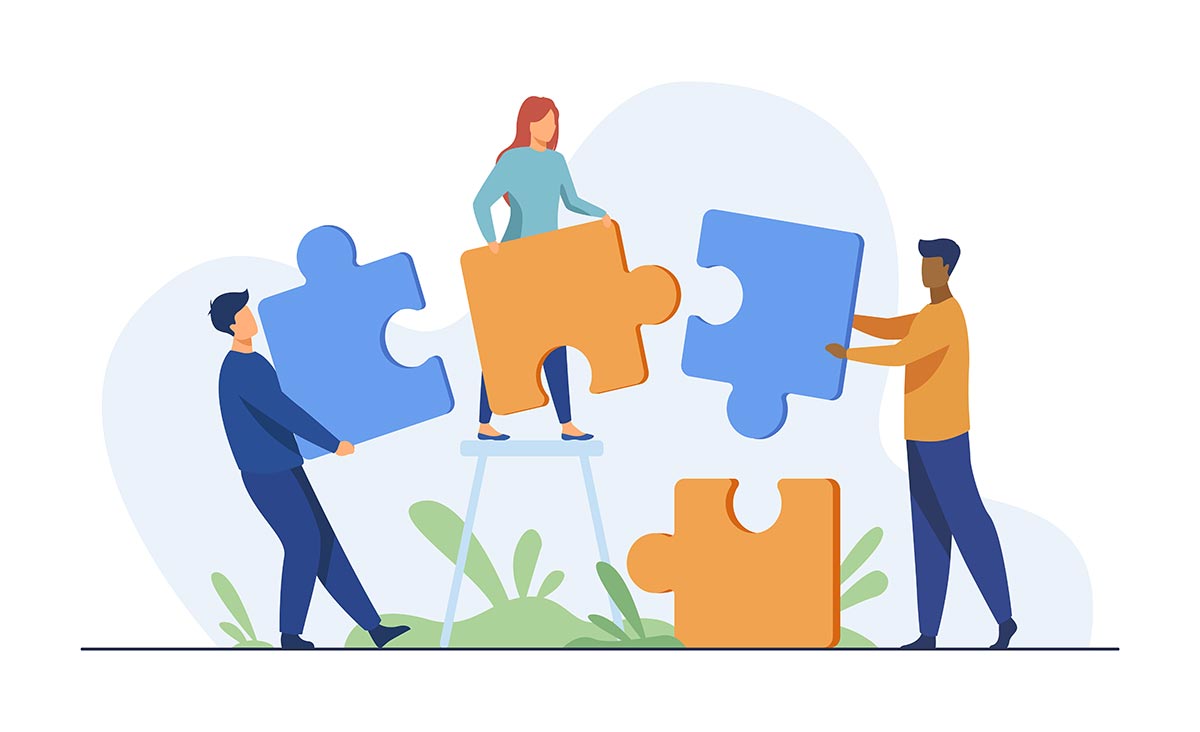 Image by pch.vector on Freepik
List of best CRM platforms
The highest-rated CRMs listed on g2.com are:
Hubspot Sales
Active Campaign
Salesforce
Less Annoying CRM
Monday Sales
Copper
Close
SalesFlare
ClickUp
Pipeliner
Freshsales
CRM reviews
Many online review tools and sites will help you learn about the options and decide which CRM is best for you. The g2.com listing related to CRM platforms lists a whopping 804 options in the CRM category. To classify for eligibility in the CRM category, a product must:
• provide a bounded set of sales-related functions
• consolidate customer history and transactions into a single interface
• track prospects and contacts throughout the sales pipeline
• facilitate communication at all phases of the customer lifecycle
• integrate functions into a unifying database and platform
How to choose a CRM
Finding the CRM that best suits your needs will begin with some reflection and questions. Assemble a team of change agents who understand your business and are on board with where you want to go. Then, ask the group these types of questions:
What most needs to be improved about how we interact with customers?
What workflows and processes cause blocks and duplication of effort and need to be improved?
What is our vision for an ideal CRM?
Which other technology systems need to be able to integrate with our CRM?
How much customer data do we have, and how much of it do we need to retain?
How many users will need access to the CRM?
What is the budget?
How will you track and measure outcomes from the CRM?
Honing in on the best CRM for you
To help you hone in on the best CRM solution for you, the following FAQ will help you with the considerations you need to make and flesh out the answers that will be important in informing your decision.
How many employees do you have?
There are CRMs that work better for smaller businesses of less than 100 employees, while others are designed to suit bigger operations. Take the time to identify your intended CRM users and document which sections and teams of the company they represent. Mapping out required access and usage across the organisation can help you clarify who the key people who need access to the CRM will be, and who else will need at least some degree of access. Taking stock of your workforce makeup and organisational structure can also help give insight into access requirements.
What is your budget, per employee?
Most CRMs are priced in relation to the number of people who will be using them. Start your research with a rough budget per person on mind- this figure could range from zero (as in you are only considering free CRM tools) or at the opposite end, be $100 or more per person. Some CRMs also change in price related to the size of the system or the number of records they contain. For this reason, you should prepare information about your current data file size and the number of records you might have in the future.
What other cost can be incurred?
While we are discussing cost, it is also important to consider if there might be any additional costs associated with the installation and operation of your preferred solution. Will there be a fee per additional system integrated? Are there costs associated with any unique developments you require? Does the vendor charge for training or for the provision of technical or helpdesk support?
What industry are you in?
Many CRM solutions have been created for use in specific industries. It's worth investigating these because they are more likely to be able to handle your specific requirements. It definitely pays to check out any systems that have been created with a specific industry in mind. Some key industries which use tailored CRMs include:
Consulting
Insurance
eCommerce
HealthCare
Higher education
Manufacturing
Wholesale
Real Estate
SaaS
Do you require on-premise or cloud-based storage?
You will need to decide exactly where all of your new client records and files will live. A cloud-based CRM will be available to your staff whenever and wherever they need it. Although cloud-based solutions are generally considered entirely secure, if there are network outages or connection issues, you could be caught short and unable to operate effectively (or at all). Cloud-based solutions often have high computational power and can identify security risks and breaches effectively and efficiently.
An on-premises solution is more secure. This option is installed directly onto the computers that need to have access to it. There may be additional support requirements or costs, and many organisations are currently seeking to reduce their overall data storage capacity.
Do you need the CRM to incorporate billing, quoting, or proposals?
Because some industries need sophisticated financial recordkeeping components, some systems have limited capacity for accounting, invoicing and quoting. Be clear about which accounting activities you want to intergrate.
Is sales tracking and lead follow-up an important CRM component for you?
Considering the number of new leads you acquire or want to acquire each month will be essential in selecting the perfect CRM. Securing leads may be insignificant if you operate in healthcare or a service-based industry. But if you are establishing an online store, then the capacity to follow the customer journey will inevitably be crucial.
Do you want to automate activities such as email generation, reminders and notifications?
This is an important consideration if you have identified any repetitive and time-consuming activities your employees are currently undertaking. Suppose you chose a CRM than can automate emails when a particular online form is completed or set up a recurring message or promotion to a certain group of customers. In that case, you can expect to see increased sales conversions as well as internal efficiencies.
What level of reporting and analytics do you need?
Detailed reporting and analytics aren't a given with all CRMs. Some are designed to provide you with easy access to complex records and information but aren't necessarily created to give you access to complex reporting components. Some CRMs feature a marketing return on investment (ROI) feature that can assess how effective marketing campaigns have been in term of income.
Would you benefit from a sales forecasting component?
CRM systems don't only collate data about what customers are doing right now. Some systems incorporate planning and forecasting tools to help you prepare for the future.
Do you need to send emails from within the CRM?
Making a business decision regarding if you need and want the CRM to handle outgoing emails is important. Some CRMs offer this capacity, while others offer impressive integration with key existing email programs that are used by many enterprise organisations.
Do you need to use the CRM for social media?
Some CRM tools have inbuilt social media scheduling, response and management components. Set a social media strategy that outlines how your ideal CRM will interact with your major marketing channels. When you add a social media compliment to your CRM, you can manage and track all interactions with a customer across major social platforms. This enables you to quickly access the information you need for a unique customer, and respond quickly and efficiently through whichever channel they prefer.
Is mobile-friendliness a concern?
The term Mobile CRM describes tools specifically designed for use on mobile devices like phones and tablets. Understanding how and when your customers and staff will need to use and interact with the CRM can give you a good idea of how important your potential CRM performs in a mobile environment. Investigate if the solution you are considering has plugins or apps to enhance the experience for customers on the go.
What level of data security is required?
All businesses are facing increasing and unprecedented pressure to ensure that customer data is held securely and in line with data regulations. Make sure a potential CRM is compliant with data creation and destruction standards. Furthermore, it is worth considering how you can tailor a system to your own security roles and permissions and asses any exposure risks to data leaks or hacking.
How much customisation do you need?
While we tend to see at least some customisation opportunities in most CRM systems, some are certainly easier to customise than others. Think through your processes and any elements you consider unique to your operations.
How much integration is required?
Take steps to ensure that your solution can integrate with any and all existing systems that you need to bring forward. You should install your CRM to sit above other legacy systems and demonstrate the integration of data from multiple sources, not add to an already complex and messy systems network. CRM compatibility should be considered by way of review of your current IT infrastructure.
Do you work across multiple countries?
Only some CRM systems have the capacity to enable the processing of multicurrency transactions. If you are seeking to expand your eCommerce store, or reach new markets worldwide, then make sure you look for a CRM that can confidently handle international currency conversion and exchanges. You will find some on the market that offer online translation capacity and within system instructions and resources.
Do you need local support?
Another important deciding factor may be how local and available the supplier's support will be. Many CRM companies are based outside of Australia. In some cases, they will offer around-the-clock support if you need it. Some data providers, like Pimcore, establish international partners (like us!) to act as local providers and supporters for users of their products. But the providers of other, smaller solutions may be unavailable if things go wrong.
Are there demonstrations and free trials available?
One of the biggest deciding factors may be completely removed from ration or reason. Having a chance to look at, bserve and interact with a CRM might make all the difference in the world. One of the most crucial things to consider is how your staff feel when engaging with the product and if they describe it using words like "intuitive' or 'easy to use'. It makes great sense to offer key CRM users a chance to experience a product before a narrow group of decision-makers determines an outcome or preferred solution. User-friendliness is invariably the key criterion that employees ask for when choosing a new solution, well ahead of integration, management and reporting.
Deciding on a CRM solution
These questions have been written to help you determine which of those hundreds of CRM systems might work best for you. If the options seem overwhelming, then it is worth getting some advice about, or considering further analysis on your current data position and your ideal future state.
Integrating CRM with PIM
While some CRM systems provide you with a new interface for customers using your website and social media accounts, if you are truly striving for exceptional customer experience, it pays to consider combining your CRM with other digital services like a Product Information Management (PIM) system.
As Pimcore Silver partners, we can demonstrate how CRM and PIM can work together to revolutionise your internal approach and enhance engagement and brand amongst your customers. We have been helping our customers use Pimcore to achieve their strategic marketing and sales goals for many years now, and we build customised data-driven web-systems, PIM, MDM, DAM, robust B2B/B2c Ecommerce systems and Web Portals for our clients.
The Benefits of PIM and CRM Integration
As providing exceptional customer experience, higher sales and growth turn into long-term goals of organizations, a PIM and CRM integration can work as an ultimate means to achieve higher customer retention, and brand loyalty. Lowering product data inconsistencies, bolstering customer relations, enhancing product data dissemination, and personalized attention to customers can be a shot in the arm for businesses in more ways than one. A few of the most significant advantages of PIM and CRM integration are:
Enhanced Customer Experience (CX): Both aid customer experience immensely - PIM by offering the best product data, CRM by maintaining customer relationships to target their needs.
Analysing and Aiding Buying: When serving customers well is the main objective, it makes sense to know their buying habits while offering them products in an omnichannel environment.
Employee Enablement: As employees across organizations get a comprehensive picture of the customer and the product data from ordering to query resolution, it empowers them to do a better job.
Sales Efforts Match Sales Results: Anticipating customer requirements while presenting enriched product data around the latest trends and customer inclinations increases sales success.
More Selling Opportunities: Keeping tabs on the complete customer activity along with great product data makes cross-selling, up-selling, and targeted marketing much more effortless.

Related questions
What are the best CRM review sites?
Another way to help determine which CRM is right for you is to spend some time reading customer reviews. The website mentioned earlier, www.g2.com uses unbiased reviews of software solutions to generate ratings and scores. The website enables you to filter through available products across categories such as Segment (small business, mid-market, or enterprise), as well as rating, language and pricing.
The features tool helps you explore which solutions offer some of the services described in this article, such as social network integration. You can also view all products on a graph that compares market performance with user satisfaction. Other software review sites we recommend include Capterra and Software World.