In today's truly global market, Customer Relationship Management (CRM) plays a critical role in helping you to build and maintain relationships with your customers, enhancing their value.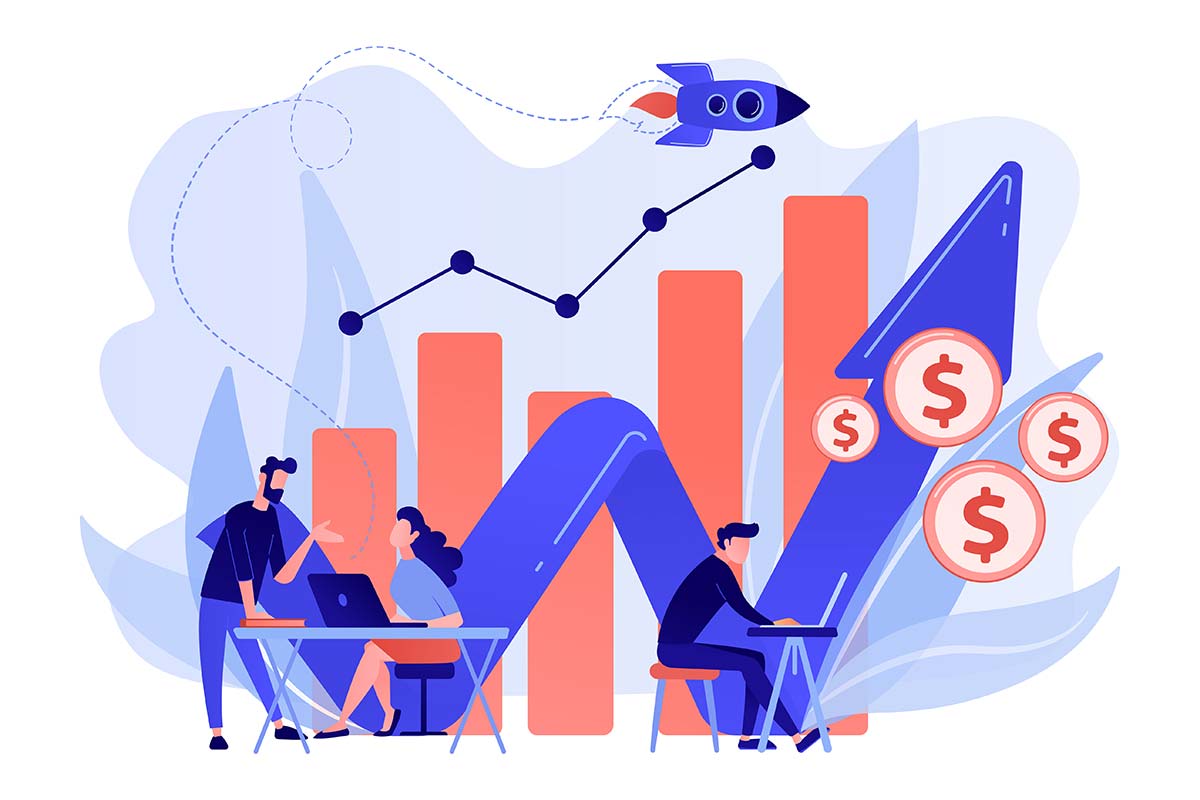 Image by vectorjuice on Freepik
With this in mind, what is the best way to use a CRM to grow your business?
A CRM software system enables you to capture meaningful data and records related to each customer and analyse these records to strategically inform business decisions and marketing strategies. The goal is to put your customers at the centre of your work, to improve customer acquisition and retention, thereby growing loyalty and ultimately increasing profitability.
What does it mean to be customer focused?
When your business is genuinely customer-focused, you will put customers at the core of what you do. The term customer-centric describes the processes associated with making customer experience your main priority. A decade ago, there were trends toward being product-centric or, using a sales-centric approach. But times have changed. Today, there is so much competition in most industries that customers are always ready to shop around. The internet makes it easy for customers to browse the market and shop locally, nationally or globally. It is not as easy to gain and maintain customer loyalty as it once was. Yet establishing loyalty amongst your customers is one of the best and most certain ways you can grow your business.
Benefits of a customer-centric approach
You must have heard the familiar adage 'The customer is always right' and this statement is as true today as it ever was. Your business needs customers. When you operate with a strong customer focus you will make all of your business decisions with your customer in mind. By establishing a loyal customer base you will develop and grow your brand, which in turn brings new customers along. When you prioritise putting the needs and care of your customers at the front of your approach, you are giving your business the best possible chance of growth.
What is CRM software?
There has been a lot of talk lately about CRM software being the best way to establish and harness the benefits of a customer-centric approach. CRM stands for Customer Relationship Management, and CRM software is a term used to describe software tools and systems that are designed to help you cover all aspects of your interactions with your customers. A CRM solution will enable you to manage your relationships effectively, which in turn enables you to create connections, streamline processes, reduce the number of communication systems and overall improve both brand and profitability.
CRM for feedback
One useful component of a CRM system is the feedback reporting function. By regularly collecting and considering feedback that your business receives, you have the opportunity to understand any issues or frustrations your customers are experiencing. Customer feedback can be collected across multiple channels and consolidated as valuable data you can use to inform or amend your processes. Reports of technical issues from customers may help you become aware of malfunctions, bugs, or other problems that are preventing customers from being able to complete a transaction.
Simply surveys can be sent to customers following their interaction with you, so you can get real time feedback about the exchange. Your customers might even share their great ideas for enhancements and improvements, giving you inspiration or a great idea for a product or approach you never knew you needed. In many CRM systems, there are also inbuilt trackers which enable you to assess your current position by generating a figure known as your net promoter score.
CRM for multichannel communication
Your customers might interact with you across many channels- emails, product orders, social media and webchat. If you don't have a CRM in place, the only way you would be able to have a central record about all of these exchanges would be if you manually collated them or ran a complex integration tool across all of the systems. Regardless of the method of communication that your customers choose, they will be expecting that you will have information about their purchases and preferences at hand.
If there is an issue with a product, your customers want to be able to contact you via social media to report it. They expect that you will be able to check the details of the purchase when they open a web chat, regardless of whether they have the sales receipt handy.
CRM for predicting trends
Your CRM system can also give you up-to-date and relevant information about trends and growth areas. Having insight into what products or services are selling best can help you set strategic directions for the future. Through a process called "Data Mining" (DM) you can extract information from your customer records and predict their future behaviours, so you can make profitable marketing strategies and decisions. CRM technology can also enable you to analyse exchanges and interactions to get an idea about key topics of interest and discussion. Some CRM systems even use Artificial Intelligence (AI) to predict consumer preferences better and anticipate behaviours and trends.
CRM for lead management
Your CRM system won't just help with your existing customers; a CRM also enables you to collect and manage leads. These leads could be individuals who have shown some interest in your brand and products by browsing your website or subscribing to your newsletters. You can collect new leads at many points, and a sophisticated CRM system will help you collect and collate their details. A CRM is much more than a list of potential contacts. It is a system that has the smarts to help you nurture business leads through profiling and analytics. You can generate information about your best bet for creating engagement and sales, and which leads are likely to offer the most profitable outcomes.
Using a CRM to grow your business
Deploying a powerful CRM tool across your business will help your operations in several ways. A CRM can manage the administration of records and customer contacts, freeing up your employees to tackle the tasks you really need them to. A CRM will be a central repository for information about your customers, making it accessible across the business. This enables you to meet or exceed customer expectations when they contact you. You will have complete and cohesive records about your customers, which you can also use to get a clear picture of them. This helps you to understand your customers better and get better and see where there are opportunities for growth and innovation.
Main differences between CRM solutions
The basic intent of CRM solutions is to manage information about customers and your interactions with them. And while each software system will operate differently, there are three main types of CRM systems, each with a slightly different priority or area of focus.
Operational CRM systems help you to refine and streamline the processes through which your customers are interacting with you
Analytical CRM systems are designed around data, and observations of transactions, activity and milestones for marketing purposes
Collaborative CRM systems are intended to provide improved access to customer records across separated teams or stakeholder groups, which could include external parties
Another difference between systems relates to where the CRM data is hosted, which can be either in the cloud or on your premises. A cloud-based solution will not require specific installation at your office, which can save time if you have hundreds of devices and computers across the business, as there is no hardware to set up. Customer records and data are available to any employee when they need them, whenever they are. Cloud-based solutions offer good security, and upgrades are handled remotely.
What is the best CRM for enterprise business?
The software review site www.g2.com profiles almost 800 listings for CRM solutions available on the market, 99 of which receive a five-star rating. When narrowing the results to best CRM for Enterprise business, the results drop to just 49. The following is a list of the most widely used and top-rated CRMs for enterprise business, along with their star rating from five stars on G2:
ActiveCampaign – 4.6 stars
LeadSquared Sales + Mobile CRM - 4.5 stars
HubSpot Sales Hub - 4.4 stars
Salesforce Sales Cloud - 4.2 stars
Pipedrive - 4.2 stars
Of this list, ActiveCampaign has been commended for offering a comprehensive CRM, sales and marketing solution, including integrated products for email marketing and marketing automation. HubSpot gives an outstanding user experience and has an intuitive and easy-to-use interface that all of your employees will enjoy using.
Related Questions
What will a CRM cost?
How much your CRM installation and operation costs will depend on which CRM vendor and solution you choose. You may be able to find annual fees on a vendor's website, but be aware this cost might not include initial setup and integration, as well as data storage, maintenance and support and a host of other costs. The best way to discover how much CRM will cost is to contact the vendor or one of their partners and request a formal quote.

Is Pimcore a CRM?
Pimcore is not technically a CRM system but a Product Information Management (PIM) system. However, there are similarities between the objectives of CRM and PIM systems. Both tools are highly beneficial for the marketing and sales teams because they relate to understanding and supporting customers, which are activities that improve brand and public profile. Both systems are designed to equip the employees responsible for handling customer interactions with all of the information and records they need to provide that customer-centric approach. If you have customer and product data across multiple programs and have no practical way of matching your sales data and reports with your customer details and contacts, then Pimcore could be just the solution you need.