Here are a list of websites with Pimcore reviews online"
Before selecting any software system for your enterprise business, it pays to do your research. The above-listed sites all provide information about, and reviews for Pimcore. Pimcore is a unique, innovative, open-source product information management system that helps coordinate complex data records from across other disparate data systems. If you want to learn more about how Pimcore is used and what users have to say about it, the list of links above should help.
Most popular technology review sites - G2
One very popular technology review site is G2. This site works by profiling software systems under different product categories. Because Pimcore has such wide-ranging capabilities, and is really like four or five separate data systems in one, it is included in a number of G2 category listings:
Web content management software (CMS)
Digital Experience (DX) Software
Digital Asset Management software (DAM)
Product information management (PIM) software
Master Data Management (MDM) software
Customer Data Platform (CDP)
Data Mapping Software
Pimcore's G2 rating
Pimcore has been consistently recognised by G2 as a high achiever. Pimcore's current G2 rating is 4.4 rating out of five stars, and G2 has given Pimcore commendation and high-performance ratings during 2020. G2 also use mapping tools to place software on a grid, allowing various aspects to be compared. G2 has placed Pimcore among the high momentum scorers for E-Commerce Platforms (top 25%), meaning it has rated highly amongst users for Satisfaction and Momentum algorithms.
G2 product comparisons
Another neat feature of the G2 site is that you can view direct product comparisons, which show you how Pimcore has been rated in a number of categories against other comparable products on the market. From the G2 site you can read comparisons of:
In each of these comparisons you can review the total number or ratings, the total star rating (out of five), market segments and price. There are also direct comparisons against a suite of features in the categories of ratings:
Meets requirements
Ease of use
Ease of Admin
Quality of Support
Collection
Cleansing
Classification
Versioning
Digital assets
The G2 product comparisons also give you some information about who has left the reviews. The site allows you to see reviewer company size, (small business, mid-market or enterprise) and reviewers industry, so you can get a sense of who is saying what about the products.
Most popular technology review sites – Gartner
Another reputable and trusted tech review site is Gartner. Gartner regularly produce reports about market trends and opportunities, and compare similar types of software. Gartner has consistently recognised Pimcore for its excellent platform structure and product strategy, even declaring Pimcore a "Cool Vendor" in 2018. To achieve this rating, a company needs to demonstrate that it is:
Innovative - enables enterprises to do things they could do before
Impactful - has a business impact, and is not just technology for its own sake
Intriguing - has caught Gartner's interest during the past six months
Compare Pimcore editions
Pimcore is available in a community edition (open source GPLv3) which is free, as well as an Enterprise Subscription and an Unlimited Subscription. These two latter options are acquired by commercial businesses through an annual subscription. If you are wanting to learn more about what each of these three editions offer visit https://pimcore.com/en/platform/compare-editions, where you can look at features, portal and extension options.
Best features of Pimcore
You will note that Pimcore rates highly on all of these review sites. Because it is an open-source solution, there are is extensive community of highly engaged, passionate and connected Pimcore users and developers. Pimcore is the only fully integrated customer experience system that is without software costs. Plus, Pimcore is highly flexible, allowing businesses to customise to suit their needs. One reviewer even says that Pimcore's middle name should be "Flexibility"!
Best features of Pimcore - Robust integration
Customers report that the integration capacity of Pimcore allows them to create digital experiences in a faster way. A good number of product extensions extend customer capabilities. With Pimcore users can "create, manage and easily maintain" the data that is used to produce outstanding digital experiences for customers. Customers love how that in Pimcore, information is handled from a single source and can then be published to all output channels: web, mobile, apps, social platforms, print and digital signage.
Best features of Pimcore - Unified data
Customers appreciate the way that Pimcore helps them organise data efficiently and effectively, allowing them to connect up their product content with their marketing content. Pimcore provides you with seamless architecture that consolidates multiple functionalities into a single platform. A great deal of time can be saved through the use of the central data storage capabilities which and publish and push out digital assets in multiple formats. It provides a very clear overview of the content that your business needs to manage.
Best features of Pimcore - user management
Customers have indicated that extensive user and role management capabilities in Pimcore allow them to grant the right level of access and permission to each user and group. The user rights and role management features are quite advanced. You can even provide restricted access to external partners such as editors and designers.
Best features of Pimcore - ease of use
Customers have commended on the "easy and self-explanatory handling of the system". The graphic interface helps non-technical team members to be able to configure and set up systems without the need for coding. The interface for accessing and editing data is very intuitive and has been recognised for providing a better content editing experience than other similar systems. Adding pages and managing data is an easy task for users who have a reasonable level of systems experience.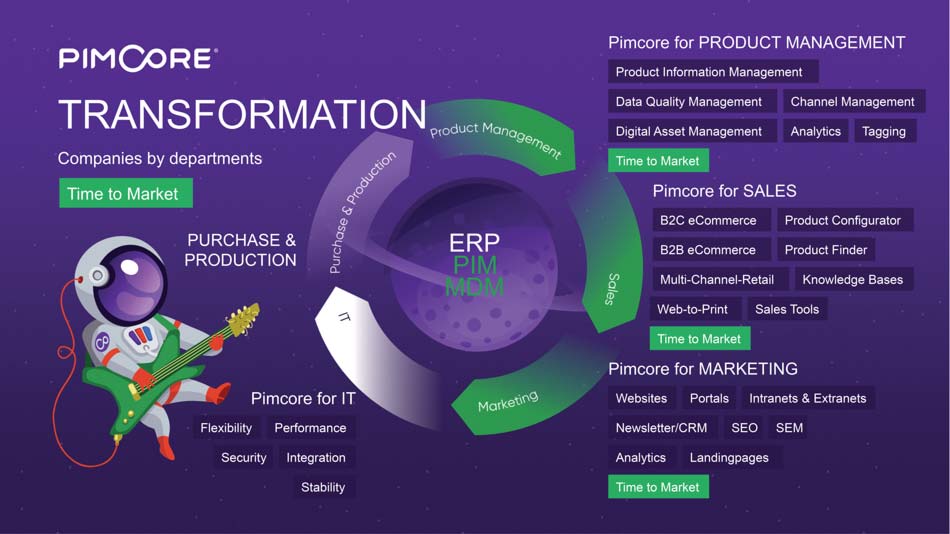 Best features of Pimcore - open source
Customers realise that because Pimcore is open source, it allows them to customise the platform to best meet their needs. Pimcore enables software developers to work fast to achieve desired outcomes without being restricted by code or product limitations. Pimcore enables the configuration of many settings with little coding effort. It is open and flexible, encourages innovation and offers so many possibilities in terms of presentation and performance.
Areas of improvement for Pimcore
Customers have, of course, mentioned some features that they have noted could be improved. One of Pimcore's best assets, its flexibility, can take some getting used to for new users. Luckily, there is an outstanding front-facing layer which makes it easy for non-technical team members to be able to work effectively with the system. But Pimcore is a dynamic and ever-evolving piece of software, and there are more and more plugins now available to allow you to do exactly what you want to. The Pimcore webpage also has a section where you can suggest or request new features.
Pimcore release and update cycle
Pimcore's development team is always working on improving user experience and creating software that customers love. The core development team has an established road map and schedule for the role out of new features. You can expect a major update release roughly every two years, as well as several minor releases in between. New developments are contributed daily, and the source code is always transparently available.
How to find a Pimcore Demo
Visit www.pimcore.com to access Pimcore demos. There is a prominent "demo" icon in the top tool bar and here are two ways you can have a Pimcore demo. The first is by signing up for a guided tour on one of the topics that interest you. The second is to select "Try by yourself" where you can enter the Pimcore environment along with other users. There are also plenty of great YouTube videos that will give you an introduction to what Pimcore can do. Simply visit https://www.youtube.com/user/pimcoreorg
How to find trusted reviews
Clearly, there is a lot of information out there about Pimcore, and about software systems generally. It can be hard to know which review sites can be trusted. Here are some tips for finding reputable review sites.
A good number of reviews – it is hard to get an accurate perspective when only one or two users have left comments on a review site.
Reviewers from around the world. Since most software systems are used internationally, you would expect reviews from all corners of the globe.
A consistent frequency and rating in reviews. It is possible that a sudden influx of glowing reviews could indicate someone has paid for them to be written.
A system for user verification which helps legitimate reviews.
So, if you are thinking about acquiring a data, product or customer experience management systems, it's wise to use these reviews to help you determine what your ideal solution might be. If you are after a product that will help transform data and information within your business, make sure you consider Cool Vendor Pimcore.